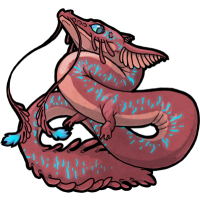 Collect creatures with a variety of colours to choose from, and breed them together to make your own fully traceable ancestry trees. Explore and battle alongside your creatures to gather resources and help the research effort. Protochroma receives regular feature and creature updates, and creating an account is free.
Learn more
---
Terms of Service
Latest Update: Feb. 14th, 2021
By accessing and using this website (Protochroma) you agree to these Terms. If you do not agree with any part of the Terms, then please discontinue your access and usage of Protochroma immediately. Users who register an account on Protochroma also agree to follow and abide by all Site Rules. Protochroma's data collection policies are outlined in its Privacy Policy.
Children under 13 years of age
Protochroma does not offer account registration to, and is as a whole not intended for use by, children that are under 13 years of age. If you are under 13 years of age, please discontinue your access of Protochroma immediately. Accounts that are found to be used by children under the age of 13 may be terminated with no notice.
Usage of Protochroma's content and assets
All content and assets offered and utilised by Protochroma (such as: creatures, artwork, logos, text, website layout and code, etc.) was created and commissioned for use by Protochroma. Commercial use of any Protochroma content and assets (including old content and assets no longer actively utilised) is forbidden by anyone except for Protochroma, its Administrator (presently the copyright holder of Protochroma, Whitney Y. M.) and the person(s) involved in the creation of said content and assets. In the case of the person(s) involved in the creation of a particular instance, they are bound to whatever terms they agreed to during the creation of said instance.
Non-commercial usage of Protochroma's content and assets (such as user-created artwork based on said content and assets) is permitted, provided that said usage clearly states and does not infringe upon Protochroma's copyright of its content and assets.
Accounts
User accounts found to be in violation of the Terms or Site Rules may be temporarily suspended, permanently terminated, or otherwise have their access to Protochroma limited in some manner. The Administrator may suspend, terminate, or limit any account for any reason and without notice.
Users agree to not falsify any information when registering for or updating their account for any reason.
Only one account is permitted per person. Sharing and transferring of accounts is forbidden. The selling of accounts in exchange for any sort of currency (real or virtual in form), goods, or services is forbidden.
It is the user's responsibility to protect their account from being accessed by other people. Account credentials must be kept secret at all times. The Administrator and Staff of Protochroma will never ask a user for their account's password. Protochroma is under no obligation to restore any part of or reverse any changes made by unauthorised access to an account, as such actions may negatively affect the accounts of other users due to the nature of some of Protochroma's game mechanics.
A user with a terminated account can only be granted permission to create a new account by the Administrator.
Exploitation and abuse
Any exploitation of glitches, bugs, loopholes, or other unintended behaviours of Protochroma's code or design is forbidden. Users should report any such occurrences immediately upon their discovery so that they can be fixed as soon as possible. Accounts may lose access to anything acquired as a result of an exploit or unintended behaviour.
Abuse of Protochroma's infrastructure is forbidden. Abuse of the infrastructure is defined as any actions that purposefully hinder Protochroma's ability to function, including but not limited to the use of scripts, programs, bots, browser add-ons, and other software or methods that flood the infrastructure with an excessively large number of requests.
Using Protochroma as a means to distribute, promote, or create any sort of illegal content, actions, services, etc. is forbidden.
Availability and liability
Protochroma's availability cannot be guaranteed. Users should expect periodic downtime due to maintenance, data backups, and changes or additions to Protochroma's content and assets. Protochroma is not liable for any losses or damages that occur as a result of downtime for any reason.
Users with an account have access to various methods of inputting text that is then displayed on Protochroma, which include but are not limited to: usernames, creature names, "Owner's Notes" for creatures, and a public bio. Protochroma cannot be held accountable for the content of any user-provided text or links. Any such user-provided input that is discovered to be in violation of the Terms or Site Rules may be removed or changed at the sole discretion of the Administrator and Staff, and may also result in the suspension, termination or other form of access limitation of the offending account. Opinions expressed via these methods do not represent the opinions of Protochroma or its Administrator and Staff.
Protochroma does not verify or endorse the content of every link found on it to websites outside of its own domain. Protochroma cannot be held responsible for the content in said links. Users choose to follow said links at their own risk. The Administrator and Staff may remove any links posted on Protochroma for any reason at their sole discretion.
Updates and changes to the Terms
These Terms, alongside the Site Rules and Privacy Policy, may be updated or otherwise modified by Protochroma at any time. Any such changes will be announced via Protochroma's News section of its website. The date of the latest change to the Terms will be visibly posted below the "Terms of Service" header on this page. Any change to these Terms come into effect immediately and users are bound by the present state of the Terms at any given time.