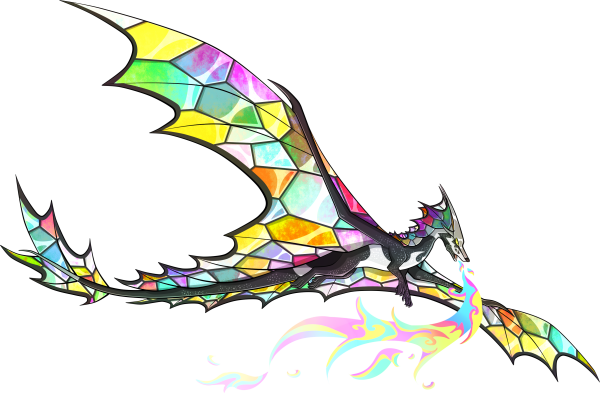 Species Info
Grouping: Reptilian, Elemental
Rarity: Rare
Time Per Stage: 37 Hours
Wild Caught: 1957
Captive Bred: 683
Total Population: 2640
Wild Caught Acquisition
Chroma Coast (Winter)
— Found at the Sector's nest during winter.
Crop Circle Canyon (Sp, Sm, F)
— Found at the Sector's nest during spring, summer, and fall.
Common Chroma Breakdown
Rare Chroma Breakdown
Baby Stage Notes
This heavy, beautiful egg looks like it's made from stained glass and seems slightly translucent, but the inside of it can't actually be seen. Its colour is difficult to describe, and the surface of the eggshell glints in almost every hue of visible light.
Juvenile Stage Notes
In contrast to its dazzling egg, the creature that emerged from the shell is a rather dully-coloured baby dragon. Though its wings are translucent like the eggshell, the membrane seems to have no real colour or sheen. However, the hatchling does occasionally breathe out a spark of flame and its wings catch the light, creating a glittering display for a few seconds before the fire dissipates into the air.
Adult Stage Notes
The Lightcatcher is a species of large dragon with stark black-and-white markings and vast, translucent wings. It is distantly related to the Vitrevern. They are large enough to ride, intelligent enough to train, and relatively low-maintenance animals, but their rarity in the wild and poor breeding in captivity make them an unusual steed. Both tamed and wild individuals are curious and playful, however wild Lightcatchers are timid and will often attack or flee when approached. Though hatchlings are the easiest to train and socialize to their handlers, establishing a rapport with a wild adult has proven useful in training mature individuals.

Lightcatchers hunt by silhouetting themselves against the sun and letting the light refract through their prismatic, glass-like wings. This results in a blinding, dazzling display of colored light that masks the animal from direct view. Prey is largely unable to see the dragons clearly enough to escape before the Lightcatcher either corners it with fire or dives to grab it. Their wings are fairly fragile relative to their size, and prey which fights back may injure a Lightcatcher to the point of grounding it permanently; for this reason, Lightcatchers prefer to kill prey quickly and cleanly, with minimal struggle. If the prey proves to be too much trouble to kill immediately, a Lightcatcher will often give up and escape into the air.