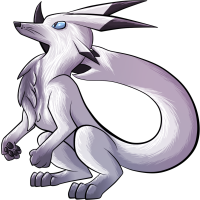 Collect creatures with a variety of colours to choose from, and breed them together to make your own fully traceable ancestry trees. Explore and battle alongside your creatures to gather resources and help the research effort. Protochroma receives regular feature and creature updates, and creating an account is free.
Learn more
---
---

The Great Plume! The valley within the mountains that's just brimming with essence. And with researchers now able to freely travel there comes the pathway to new things. The Great Plume is designed to be a hub for activities, the …
Continue reading
A new species has appeared in Crop Circle Canyon! This creature will be flooding this Sector for 36 hours, after which it will appear at its normal rate.
If you don't see any right away, don't worry—more will appear every …
Continue reading
Upcoming Release
A new creature will start appearing at 7:00PM Server Time on March 6th. A news post will additional information will be posted at the same time.
Avatars
While announced a little while ago through the smaller updates page, …
Continue reading
Winter Breeding Season 2023 is on! The Wintry Glacier will be generating three seasonal rarity creatures through the end of March 20th, 2023. Seasonal creatures use separate slots from your regular ones, so now's the time to swing by and …
Continue reading
View news archive